IY 14.98 Bellissima, at last.
We waited for her as a daughter and as such, she was treated upon her arrival in the Yard. She's the new Italia Yachts 14.98 that will soon take the way of the sea in the Bellissima version. Designed by Maurizio Cossutti, in the philosophy of Italia Yachts is an all-round sailboat from which we expect performance from fast cruiser and comfort in the interior such as to make it much more than pleasant even to long cruises. It's soon to see what the interior will be like, designed by Mirko Arbore and optimized by Emanuele Pillon, but in the meantime, we can appreciate its lines, soft, spinning and we also bet fast.
Very narrow bow, to cut through the water allowing the hull to slip fast, moving as little water as possible.
From here, she looks narrow, almost like a torpedo. It is, but the mathematic of the hull has been developed with the software of analysis extremely evolved, to ensure high performance, but also the important volumes for excellent livability of the interior. The proof? Just change your point of view and…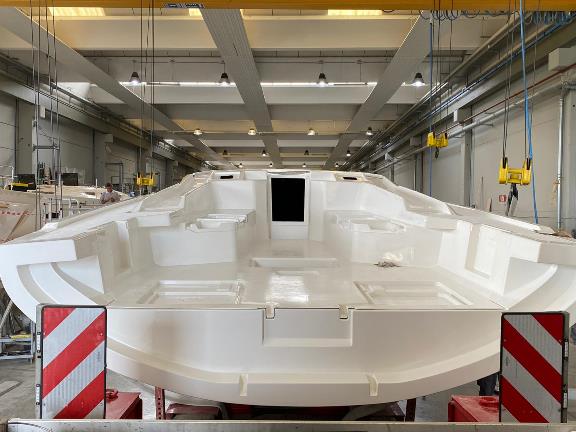 The stern shows itself in all its amplitude. The IY 14.98 shows its accentuated volumes, especially at the stern, in the search for maximum stability and comfort. The deck is printed in infusion on a female mould, vinyl ester with composite reinforcements and PVC with variable density.
The important sizing of the external peak, with the raft compartment positioned at the centre of the cockpit, leaves a lot of freedom of movement and always maintains a low and central weight positioning, even when cruising.
After following the phases of the construction, the lamination and the coupling of the hull-covered, today we take care of it and so it will be until the delivery to the shipowner.